Mount Bromo Tumpak Sewu Waterfall Tour is the best nature tourism at Malang Tour,  combine of mount bromo Tour Package, and Tumpak Sewu Waterfall Lunajang which have a 3 day 2 night tour. This tour package is the best option for the East Java tour package that is very much in demand by tourists because we can enjoy natural tourism.
Surabaya to Mount Bromo to Tumpak Sewu Waterfall
The distance from Bromo to Tumpak Sewu Lumajang waterfall is only 2.5-3 hours via the Malang Overlap route and 4-5 hours via the Malang / Lumajang – Probolinggo route. With a distance that is not so far away, it is possible to become a combined tour package for your holiday at Surabaya or Malang.
Mount Bromo Tumpak Sewu Waterfall Tour 3 day 2 night tour package can starts direct from Malang, Surabaya, Probolinggo, Yogyakarta, Banyuwangi or Bali. SO its very easy, start tour and the schedule is flexible according location for pick up.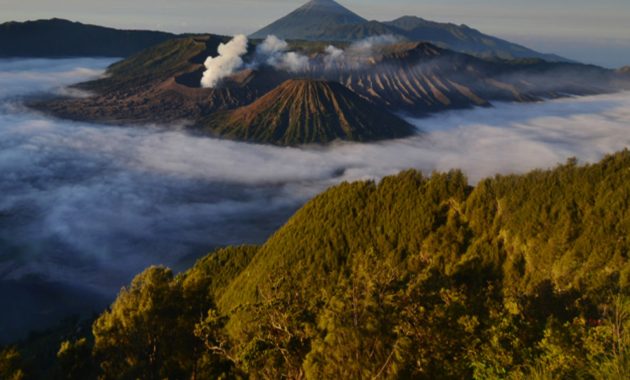 Mount Bromo Waterfall Tour
Tour to Mount Bromo is very popular ti witnessing sunrise and hiking the craters. Tour to Tumpak Sewu Waterfall package is the right choice for those of you who miss hearing the rush of waterfalls. Especially if you decide to go on an adventure to Surabaya, East Java. This waterfall is similar to Niagara Falls which is famous for its splendor and beauty. Likewise, Tumpak Sewu also managed to attract the attention of many tourists who travel to East Java.
This waterfall has its own uniqueness, where the waterfall in Tumpak Sewu is shaped like a giant curtain that is so beautiful. For those of you who want to hunt for a charming landscape, then this one destination is perfect for you. If you are lucky and get clear weather then you will be able to see the dashing Mount Semeru behind this waterfall. This is what makes you have to take this Tumpak Sewu Waterfall Open Trip.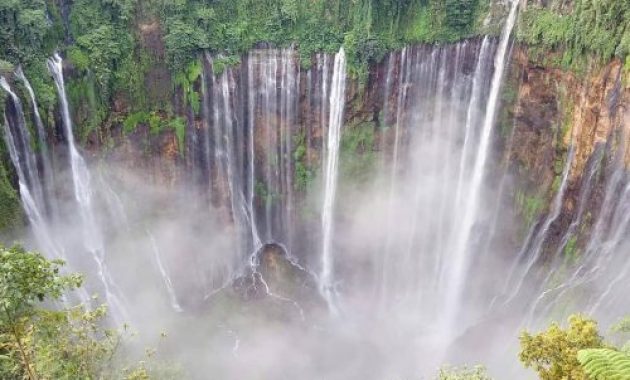 Tumpak Sewu Waterfall Tour
Tumpak Sewu is a waterfall that has a height of about 120 meters. This waterfall is bordered by Lumajang Regency and Malang Regency. Tumpak Sewu is formed in the flow of the Glidih River, which originates at Mount Semeru. This place has unique and amazing natural beauty. In addition to waterfalls, here you can visit Goa Tetes which is no less beautiful. You only need about 15 minutes from the Tumpak Sewu waterfall. To go to Tetes Cave, you will go along the river with a calm current.
Everything needs at this favorite East Java destination, you don't just need guts. But you need stamina that is also excellent. Remembering to arrive at the waterfall later you have to do fairly long trekking. Even so, all your tiredness and struggle will pay off with the views offered. In this trip you can also have the opportunity to see Tetes Cave (Goa Tetes)
Need combine with Bromo Ijen Tour? : please check at Bromo Ijen Tumpak Sewu tour 4D3N
Destination of Mount Bromo Tumpak Sewu Waterfall Trekking
Mount Bromo: The interesting thing at this place is seeing the Bromo sunrises, another thing is trekking to the Bromo crater. In the east and south of mt Bromo, we will visit Savana grassland, Teletubies hill, and whispering of sand with famous called Pasir Berbisik.

Tumpak Sewu waterfall or Air Terjun Coban Sewu located in Lumajang. This is the best natural destination, especially for waterfalls.  The interesting thing is this waterfall is a combination of the many existing waterfalls so it looks very amazing. Not surprisingly, the water seemed to widen, like a tiered curtain. The water flows and falls into a steep valley that extends with an elevation of 500 meters above sea level or about 120 meters. During this trip, we will visit Goa Tetes / Tetes Cave near this waterfall too.
Mount Bromo Tumpak Sewu Waterfall Tour 3D2N Itinerary
complete itinerary is as follows
DAY 1 : SURABAYA OR MALANG  – HOTEL / HOMESTAY NEAR TUMPAK SEWU LUMAJANG
To start the tour on the first day, our travel agent crew picks you up using a private car in Surabaya

Then continue the journey to the hotel near Tumpak Sewu Waterfall around 4 hours driving

Arrive at the homestay near Tumpak Sewu, check in, and rest to prepare for the Tumpak Sewu tour at tomorrow morning.
DAY 2 : TUMPAK SEWU WATERFALL TOUR – HOTEL NEAR MT BROMO
Tumpak Sewu Tour starts after breakfast around 7:00 am, accompanied by a tour guide

Start trekking to the Tumpak Sewu waterfall

Arriving at the Tumpak Sewu waterfall with a view below, now is the time to capture the beauty of the waterfall which is popularly known as the 'Niagara' of Indonesia waterfall

After exploring the Tumpak Sewu waterfall, the bottom spot, return to the hotel, have breakfast, and then check out.

After that, our team will take you to the hotel near Mount Bromo which needs 4 hours driving.

After Arriving at the hotel in the Mount Bromo area, check in to the hotel and rest in preparation for the Bromo sunrise  Tour at the next early morning
DAY 3: BROMO SUNRISE TOUR – CRATER – SAVANA – Whispering Sands – SURABAYA / MALANG – FINISH
Tour to mount Bromo sunrise start at 03:00 AM, you will be picked up using a typical Mount Bromo car, namely a Bromo Jeep to go to the main view to see the beauty of Bromo Sunrise, which is at Penanjakan 1.

Arriving at the top of the area, while waiting for the appearance of the Bromo sunrise, please try it first to enjoy the typical tengger coffee around the peak of Mount Bromo.

Around 04:45 AM, it's time to watch the sunrise of Mount Bromo, as well as the beautiful panorama around the Bromo Tengger National Park area.

After completing see the Bromo sunrise tour program, a jeep 4wd will bring you around 30 minutes to foot of mount Bromo Crater

Arriving at the jeep parking lot near the crater, walk to the top of mt Bromo crater

After seeing Bromo crater, proceed to Bromo Savanna grassland as well as Mount Bromo Teletubbies Hills

The trips continued to Bromo's whispering sand.

Finish exploring the best spot around mt Bromo, return to the hotel, have breakfast and rest

After check out the hotel and then returning to Surabaya, Malang or to a previously agreed location,

and the Bromo waterfall tour  3 Days 2 Night , and finished.
Mount Bromo Tumpak Sewu Waterfall Tour Price 2023
| Participant | Price/Pax |
| --- | --- |
| 1 person | IDR 5.900.000/pax |
| 2 person | IDR 3.250.000/pax |
| 3 person | IDR 2.500.000/pax |
| 4 person | IDR 2.150.000/pax |
| 5 person | IDR 2.000.000/pax |
| 6 person | IDR 1.950.000/pax |
* Prices above are not for highs  session and national holidays or long weekend
* Flexible prices for a custom tour
* Above 6 people, for example, 10 people, 15 people, 20 people, etc. please contact us
* For groups of corporate / company outings get a promo cheap prices
* For an upgrade/downgrade of the hotel there is a change in fees
Mount Bromo Ijen Tumpak Sewu Waterfall Tour Facility
Inclusions
Transportation as long as the tour is adjusted to the number of participants (For small groups under 6 people, we use Toyota Innova, Avanza, Luxio, APV or similar, For 6-12 person we use minibus elf or above 30 people use Medium Bus or Big Bus)

Include speaking English drivers, Gasoline, parking, and tolls fees

1 Nite hotel at mt Bromo area (Standart room at Cemara Indah, Cafe Lava, Bromo Permai Hotels or Superior room at Yoscho hotel or Nadia Hotels)

1 Nite Homestay at Tumpak Sewu area

Entrance fee ticket to Mount Bromo Tour

Entrance fee ticket to Tumpak Sewu Waterfall tour

2 x breakfast and mineral

Jeep tour at Bromo sunrise tour

Local Guide Ijen and Tumpak Sewu
Exclusions
Lunch and Dinner

Horse Rental at Bromo

Travel insurance and airport tax

Crew tips
Reservation Tour Bromo Sewu Trekking 3D2N
Phone number / SMS / WA: 085 336 987 071
Email: ronapersada_tour [@] yahoo. com
Related Tour